Cloud & Wind
Deck Plans
Cloud & Wind
AccommodationsShadow & Whisper
Accommodations
Shadow & Whisper
Deck Plans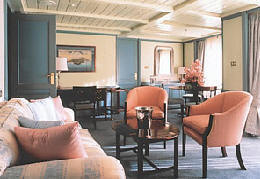 Dear Prospective Silversea Cruise Guest: A Silversea cruise is likely the best cruise on earth: all suites, and luxury that is non-intimidating and uncompromised. Included are airfare, transfers, a pre-cruise deluxe hotel night, gratuities, fine wines, Encores and soft beverages, and open-seating dining.
If you appreciate Christofle silverware and Frette linens, you should consider Silversea Luxury Cruises Single. If you relax with a cocktail or a brandy, you should consider Silversea Luxury Cruises Single.
It's all on board, from Philipponnat champagne on ice to fine Italian soaps: the surroundings of luxury, and genuine warmth and outgoing friendliness.
Steve Porter
Las Vegas, Nevada
E-Mail: Info@deluxecruises.com
Why pay more than you have to?
You might be paying too much.
Even if you are currently under deposit, call us to check our prices and benefits.
You could transfer your booking to us for a much better deal!
Contact our Experts for best available pricing.